Register online for Canada InfoNet Employment Acceleration and Mentorship.
Make sure you have all the documentation needed.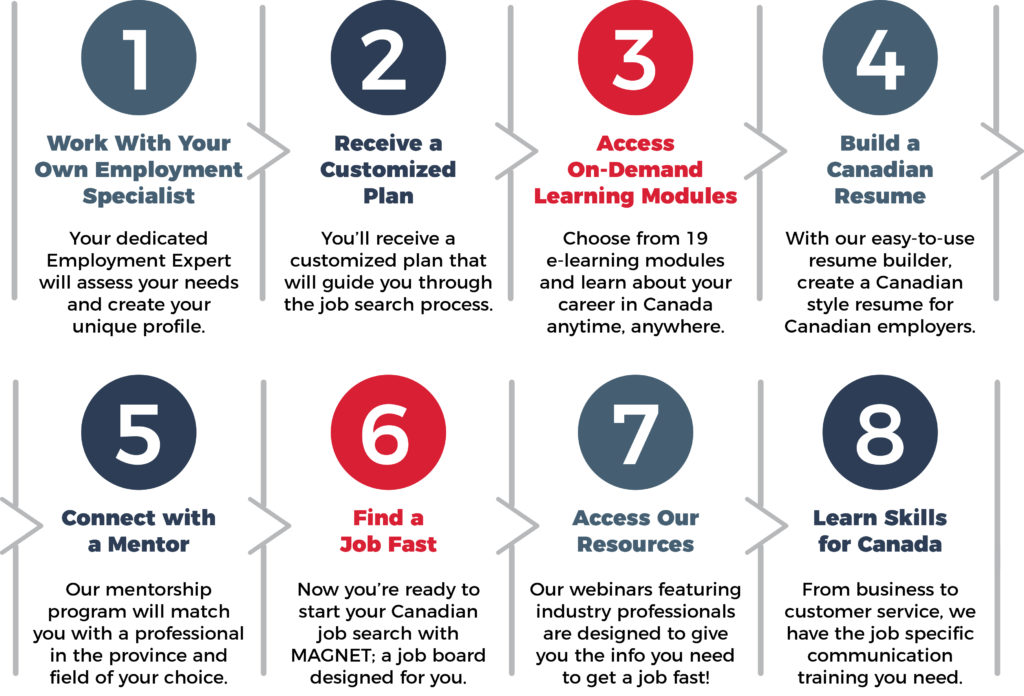 Work With Your Own Employment Specialist
Your dedicated Employment Specialist  will assess your needs and create your unique participant profile.
Receive a Customized Plan
You'll receive a customized plan that will guide you through the employment process.
Access On-Demand Learning Modules
Choose from 19 e-learning modules and learn about your career in Canada anytime, from anywhere.
Build a Canadian Resume
With our easy-to-use resume builder, create a Canadian-style resume targeted directly to Canadian employers.
Connect with a Mentor
With over 2,000 connections to date, our mentorship program will match you with an established professional in your field and in the province of your choice.
Find a Job Fast
Now you're ready to start your Canadian job search with MAGNET; a job board designed especially for you.
Access Our Resources
Our webinars, hosted by our partners and industry professionals, are designed to give you the info you need to help you get a job fast!
Learn Skills for Canada
From business communication to customer service skills, we have the occupation specific training you need.
And best of all, it's free!